Our Ultimate Guide to Taking on the Bridesmaid Role

Okay, your bestie said 'Yes' and you're going to be one of her bridesmaids. EXCITING! You're going to her righthand lady, the wing woman, the confidante and part of her inner circle. You'll be part of all the shopping (who doesn't love this), bridal shower and bachelorette party planning and reception duties over the next couple of weeks/months. And believe me, these events come up fast. So here's our guide to some of the exciting ways you can help make the process as easy and fun as possible.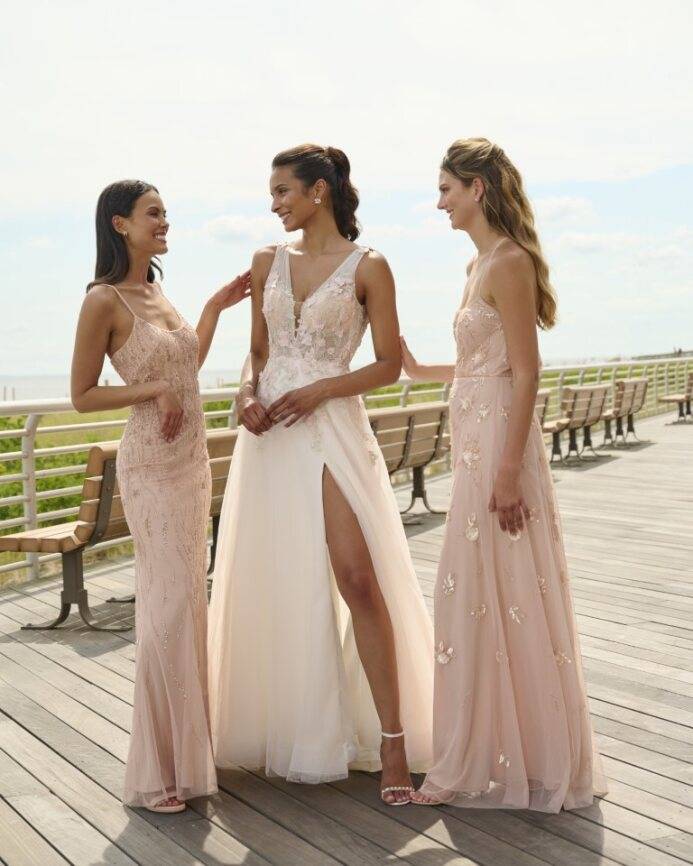 Help with Wedding Dress Shopping

One of the more thrilling aspects of being a bridesmaid is one of our personal favorite jobs--wedding dress shopping. This is where the bride is really counting on her bride tribe to help her find her dream dress. She may already have the venue booked, but she's really counting on her nearest and dearest to help her find the perfect wedding gown.
One of the ways to help the bride prep for her appointment is by gathering inspiration. Curate some of her fav looks from Pinterest or magazines as reference. You can also bring your phone or a camera to take pictures to look back to.
You can also help her choose the gorgeous bridesmaid dresses. You can help her consider silhouette and palette options.
Plan and Host the Bridal Shower

This is another fun and important part of being a bridesmaid. During all the shopping, you get to help the bride (or maybe her mom) plan a chic and unique bridal shower. Bridal showers can typically be held 2-6 months before the big day. Bridal showers can be held in any number of places including someone's home, a restaurant, a park or a unique or meaningful venue. Plan to invite the whole bridal party and other close friends and family. You'll want to help send out the invitations. Lastly, you may want to pitch in for any special decorations and research any games/activities that suit the bride's personality.
Of course, a fun time for all while celebrating the future MRS. is the bachelorette party. There are several ways to make the experience memorable, manageable and as drama-free as possible. To start, help with the bride's anxiety and expectations. Social media and movies have given us unrealistic ideas about bachelorette parties. You should try you best to keep in mind everybody's budget.
Make your friend feel special in the lead up to her wedding, especially around her engagement and in the final weeks of planning. Make every get together an excuse for bubbly, send her excited texts in the lead up to her day or take her out for a stress-free day of shopping.
Sometimes it's the little touches that makes a great bridesmaid. And those thoughtful touches don't have to cost a thing. No doubt your friend is excited about her big day, and chances are she wants to talk about her plans. But some brides believe talking about their wedding could be selfish or boring. Try to encourage her to talk about her wedding by ask questions
Another thoughtful idea is making a special playlist for the morning of her wedding or create a memory book with words of wisdom, recipes and/or stories from the amazing women in her life. You can also create a signature wedding day scent or a signature cocktail and make a survival kit with everything she could need for a wedding day mishap.  
As the wedding date nears, talk with the bride-to-be about a plan for the big day: getting dressed, getting hair and makeup done and any last-minute details. Make sure you coordinate what time everyone needs to arrive at the venue to get ready. You should also be on hand to help the bride get into her wedding dress and make sure her bridal jewelry, veil and shoes are where they need to be as well as making sure all the corsages, bouquet, crowns and any other floral accessory are ready to go. Of course, this is the best place for all those iconic getting ready photos you want to be sure she has to remember.