How to Pull Off Your Mix and Match Bridal Party

It goes without saying that bridesmaid dressing has come a long way. Brides no longer need to follow the old rule that says bridesmaids must look uniform and wear the same dress and in the same color. Today, brides are so much more open to mixing things up with their bridesmaid looks, creating a truly one-of-a-kind bridal party that features gorgeous gowns in various styles, fabrics, hemlines and even colors. Brides are thrilled to have their bridal party pick their own styles and bridesmaids are even more excited to be able to pick their own dress—one that makes her both look amazing and feel great.  
 But be careful. Having your bridal party dress in mixed matched bridal gowns can be tricky. If it is not done correctly, you can end up with a disjointed bridal party, rather than a cohesive one that compliments each other.  
 We sat down with Adrianna Papell's superstar stylist, Elise, and asked what her stylist secrets are to mix and match bridesmaid dresses. 
 First, she said to find inspiration with colors that complement the venue and the wedding's time of day and season. (think blue heather, pastel blues, blush, rose gold or shades of pink, champagne, silver and floral prints for spring and summer and burgundy, night plum, navy, emerald green and gold jeweled tones for fall and winter.) You also want to consider colors that are important to the couple or their family. 
  You can also think about pairing neutrals with pops of a color to give texture to any color palette. "For example, if you love lots of greenery and white include a light blue as a statement color to break up the simplicity but still align with the clean mood," Elise said.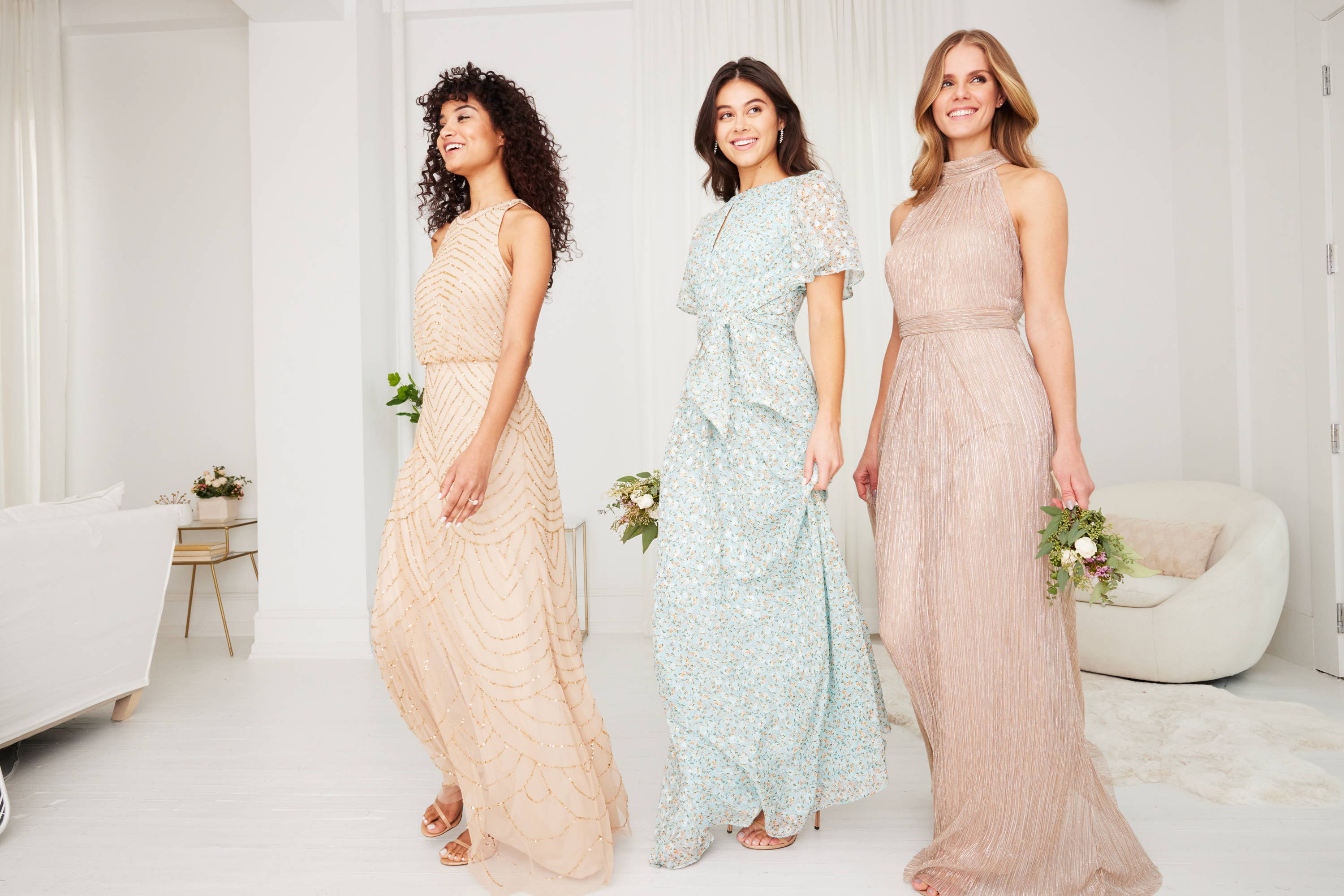 Same Dress, Different Colors

What happens if you found a dress style or silhouette you love (making sure it is fab of course), but want to give your bridal party some options? You can still pull off the uniqueness of the mismatched look for your bridal party by opting for different colors. But remember, having different colors does not mean you want your bridal party to look like a rainbow. They are pretty, but it would be too much for a bridal party. Unless that is the vibe you are going for. 
 "Stick to no more than 3 to 4 colors in a similar color palette," Elise said. "Think neutrals, shades of blue or shades of pink when mixing and matching. She warned if it is too contrasting, say a burgundy and dusty blue combination, it will make your bridal party distracting (and all eyes should be on you). 
 To include more colors, Elise suggested choosing bridesmaid dresses in a gradient or ombre effect is also a good option. For example, add dresses in shades of burgundy, dusty rose, plum, mercury and blush so the shades of pinks to purples look cohesive!  
 Some mix and match colors that look stunning are shades of silvers and blues (lead, dusty blue, silver, silver mist, bridal silver) and warm neutrals: (Rose Gold, Champagne, Nude, Biscotti, and Taupe Pink) 
Same Color, Different Styles

This option is for the bride who prefers the traditional of everyone wearing the same color, but also understands her bridal party might have different dress design preferences. 
 Not a problem. By committing to the same color but allowing for differences in styles and design, you are allowing your bridal party to pick what looks best on them (not everyone is built the same) and to that end, they will have a better time at your wedding because they are comfortable and happy. 
So, what are the hottest bridesmaid hues for spring 2022?

Elise shared there are a few colors standouts this year. She said shades of blue are hot right now. Specifically, she is seeing a lot of dusty blue. "It's such an awesome color that looks clean and vibrant, especially for beach and backyard weddings," the stylist said. "Dusty blue is a more neutral blue that looks great against silvers, lighter blues and gunmetal shades." 
 Another popular color for bridesmaids right now is rose gold! "Shades of rose gold add the perfect sparkle and is neutral enough to compliment the bride," Elise said. "This is great to mix and match with nudes, golds, and champagnes." The best part is neutral colors look fantastic on many skin tones and hair colors and in an array of venues.  
 Hunter green is another great bridesmaid color and is great year-round and should not be limited to just fall and winter looks. "A splash of emerald and hunter green translate well through velvet fabrics, beads, florals, and décor," Elise said. "Deep greens are the perfect jewel tone to compliment your bridal party."  
 Finally, we are seeing a lot of brides and bridesmaid opting for blush. "Blush is stunning for an airy feel that looks beautiful against an ivory dress," Elise said. Blush compliments spring and summer weddings with a feminine, light romantic feel. And depending on the style of photography, this color can be more vibrant and lighter!  
 Mix and match does not have to be mixing and matching color with a variety of fabrics and styles with different necklines choose a color like Emerald Green the whole party can chose different fabrics and styles all in deep green opt for a beaded spaghetti strap, halter neckline, off the shoulder sequin and velvet style for your 4 bridesmaids!  
---