How to Style a Little Black Dress and Make It Your Own
The famed little black dress is more than just a timeless, versatile dress almost every woman has in her closet. It's literally the iconic piece of fashion history that can be dressed up or down to suit every occasion. Fashion experts agree, the LBD role in your life is to make you feel your absolute best. 
When picking your new LBD, you want to be selective. Afterall, this dress will outlive any trend so it will stay in your closet for years. That's why we believe picking a high-quality style that will stand the test of time is a smart investment. 
While you may have your own go-to way of wearing your trusty LBD, we want to share some of our fresh styling tips from the experts at Adrianna Papell we know will be helpful if you're looking to mix it up from time to time. 
We've selected five of our favorite LBD 'fits and asked our design experts their favorite ways to take the classic LBD and style it so you'll feel ready to steal the spotlight at your next office presentation or night out on the town. We recommend choosing a silhouette and fabric that speak to you and make it your own.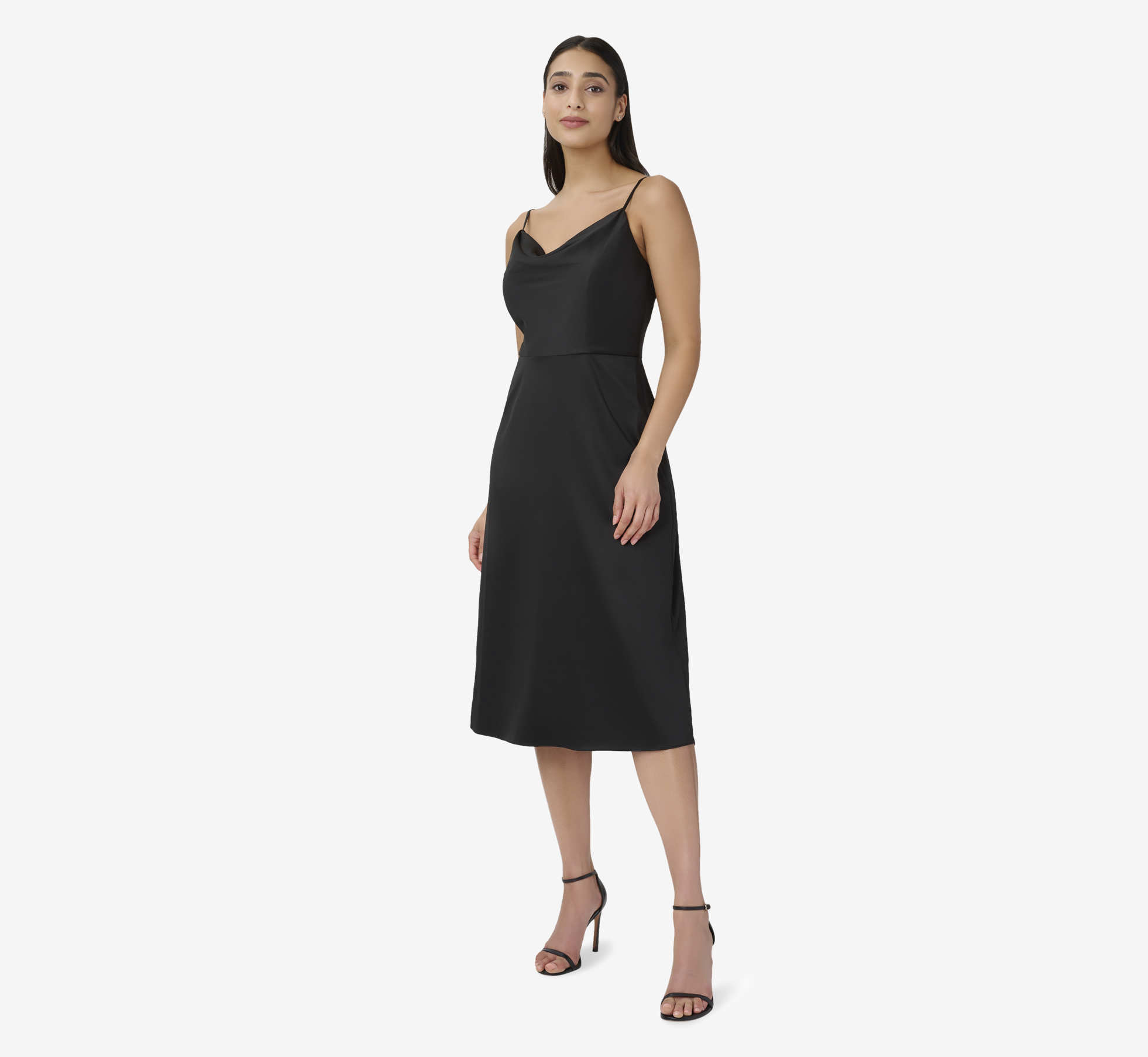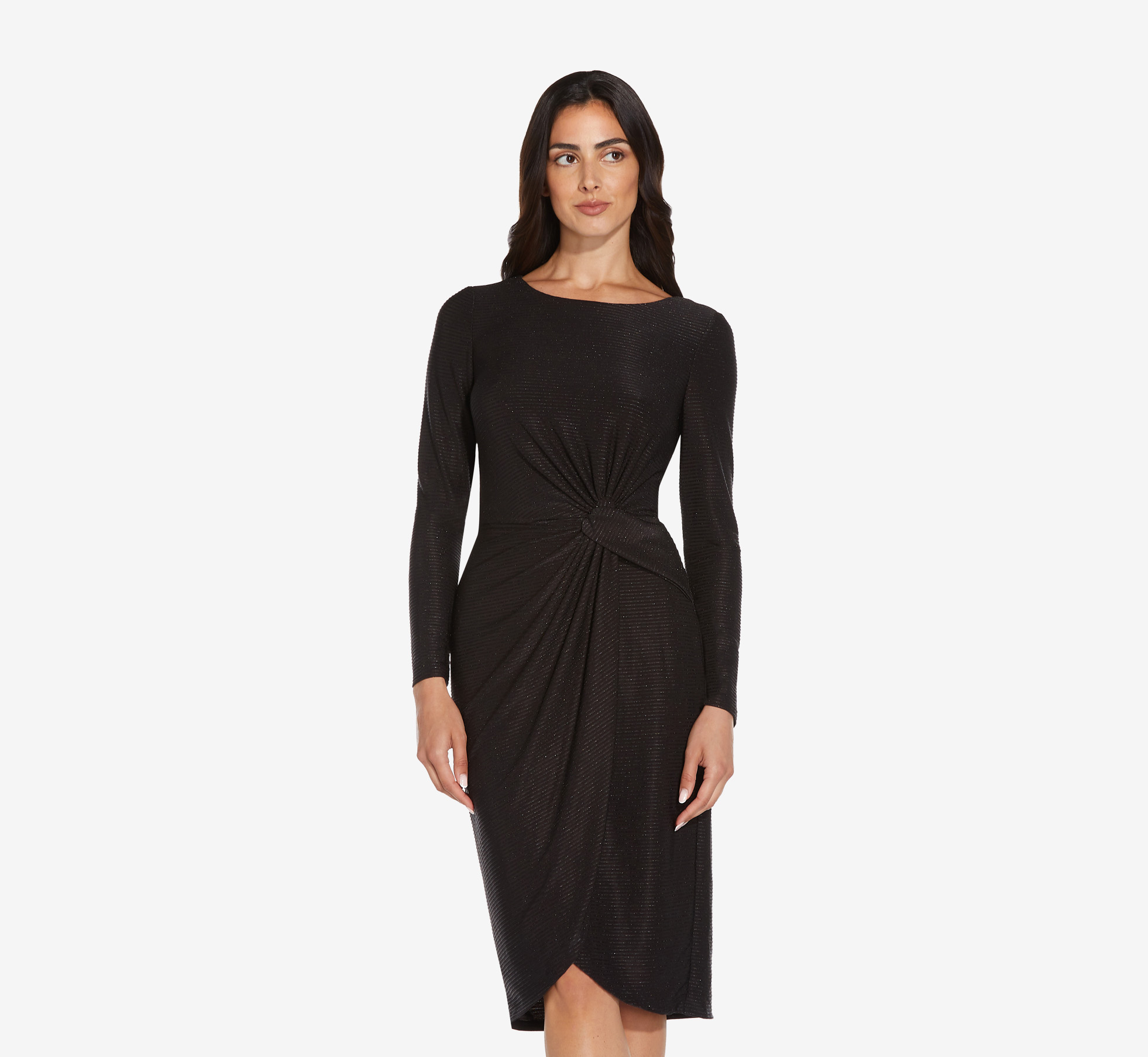 Metallic Striped Knit Dress in Black 
We love the versatility and simplicity of this sheath dress especially the twisted knot accent (so flattering). The classic silhouette is perfect to easily wear this for nailing that presentation and simple enough to make it your own by donning metallic strappy heels as you head out the door. Of course, the metallic knit makes it special enough to stand on its own.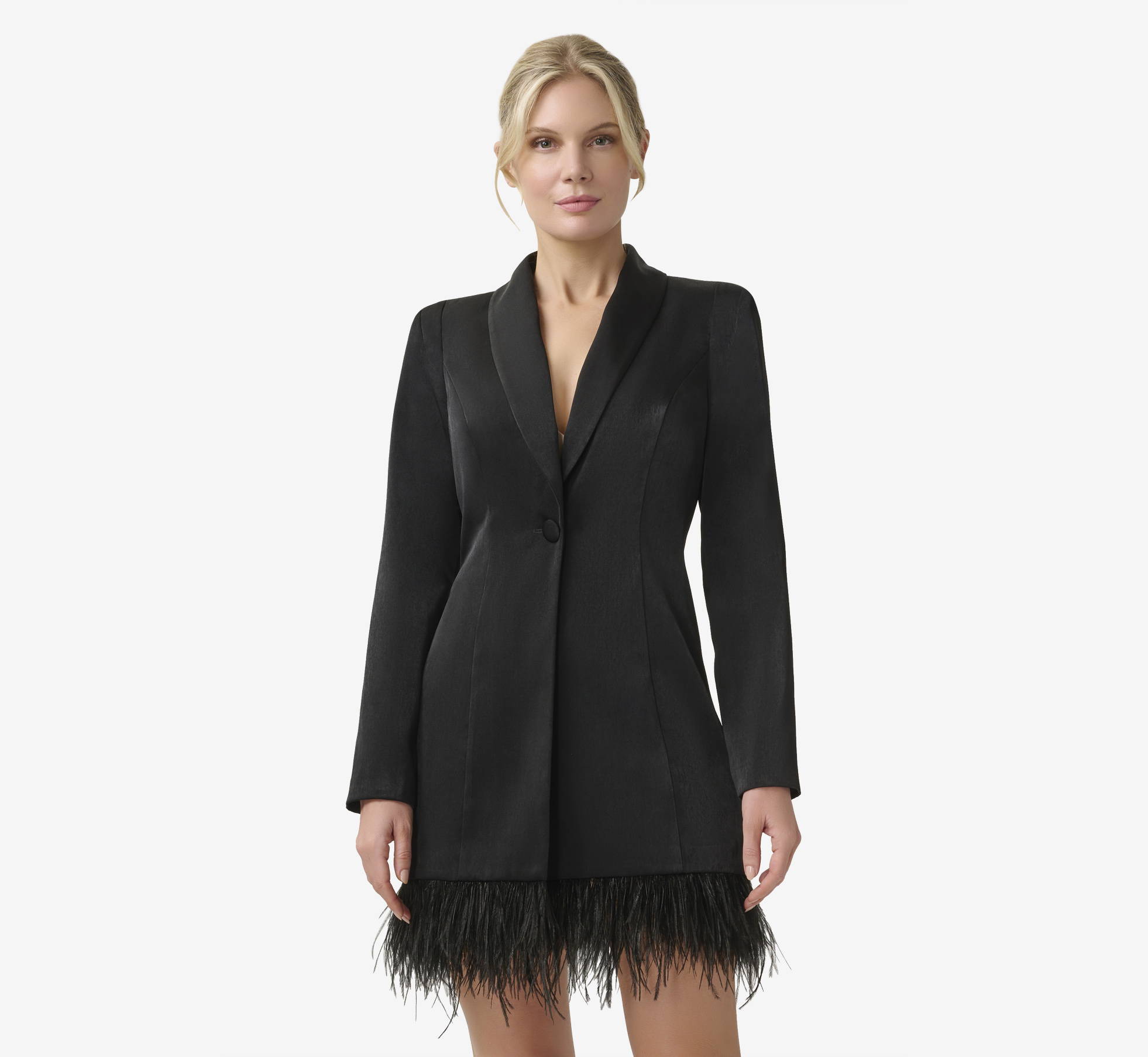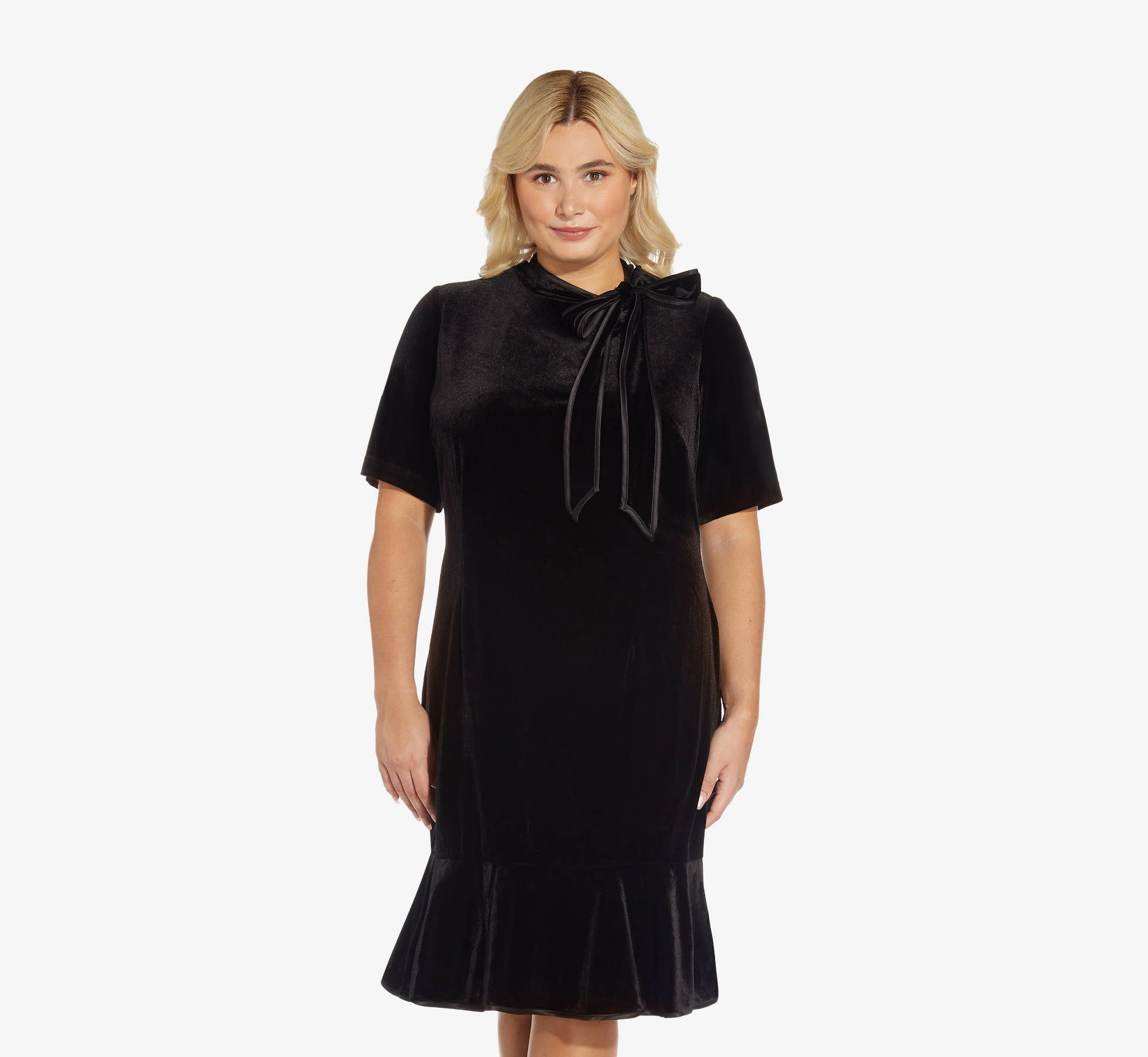 Plus Size Stretch Velvet Dress with Tie Neck in Black 
This classic dress is crafted of a sumptuous and buttery soft stretch velvet and is one of the most versatile styles. The streamlined silhouette says polished while the delicate tie at the neckline and the flirty flounce skirt are the feminine finishes we love. You can wear this dress year-round and to so many events – from brunch in the city to a dinner date and from the office to cocktails. Pair this super soft dress with tights and tall boots or leather leggings for a casual look or kick it up a notch with gold jewelry and strappy heels.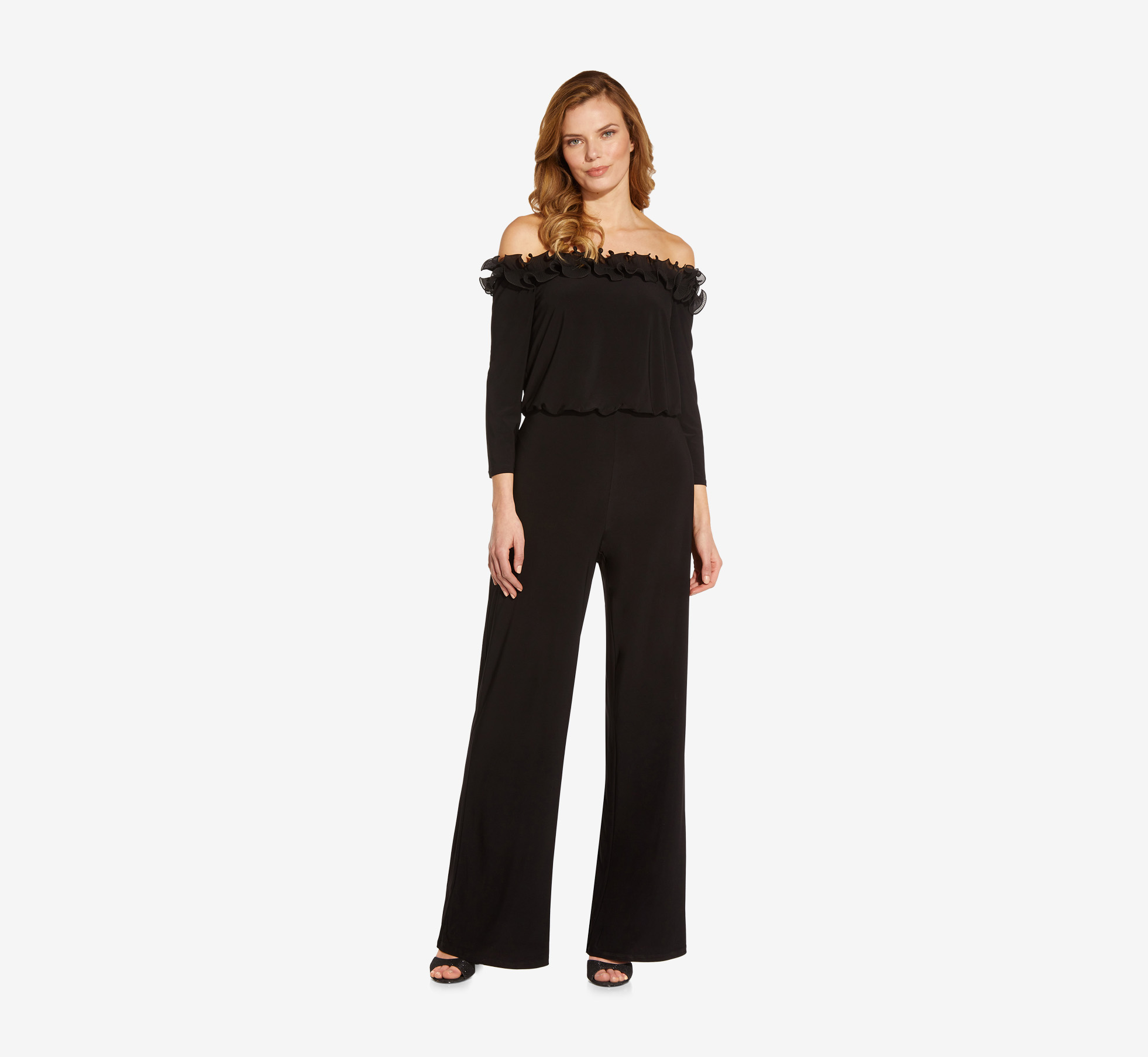 Signature Blouson Jumpsuit in Black 
If wearing a dress isn't your thing. We get it. Our best-selling jumpsuits are effortlessly cool and so easy to wear. We love flattering blouson top and chic wide leg pants. The pleated chiffon trim elevates the look for a night out on the town or a charity fundraiser.  
How to Accessorize a Little Black Dress
We love our little black dresses because they are timeless classics that can be worn at every event any time during the year. When you need a cozy layer to keep yourself warm, our exclusive S'HUG® with is a really unique and amazing style you're going to love. The best part about our S'HUG® is it's designed with these hidden, patented tunnel sleeves so that the S'HUG® remains in place while you're carrying your things, texting, leading a meeting, enjoying a cocktail or dancing with friends. The S'HUG® is also so versatile and can be worn in so many and is available to an array of color options.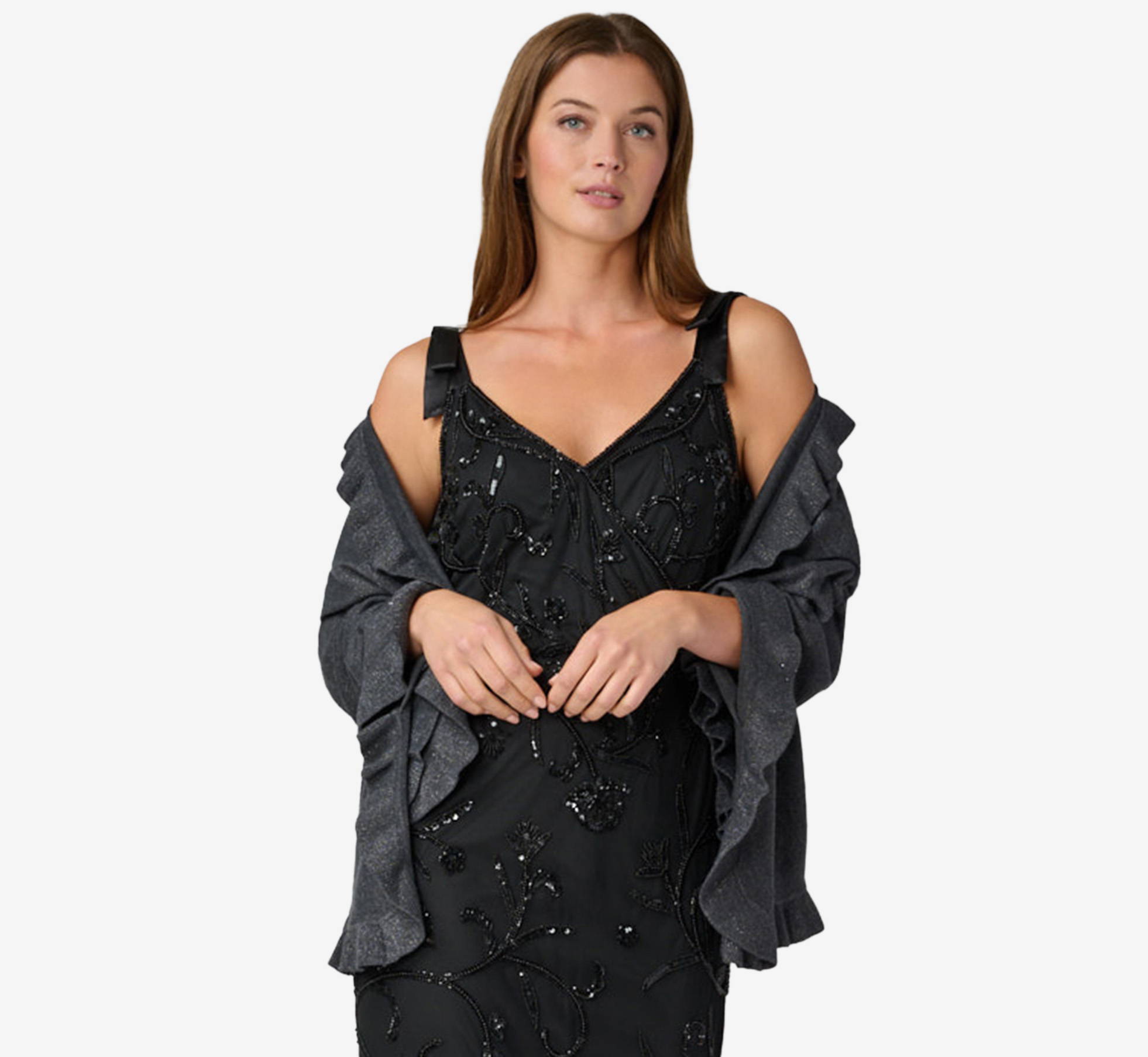 It goes without saying we simply love the little black dress and can't have enough of them in our fashionable lives. They are an obvious closet staple because they come in all fabrics and silhouettes. But our dresses at Adrianna Papell truly stand out from a sea of little black dresses. Our cuts, attention to detail and a flair for the dramatic make our dresses go from plain to pizazz and take you from the mundane to feeling you look amazing in a New York minute.
Discover More from Adrianna Papell
---