The Best White Dresses for Every Wedding Event

Here comes the bride - in a stunning little white dress.
Congratulations on your engagement! Let's take a moment for the ring. Now that we've got that out of the way - let's talk about your bridal style for everything you have coming up. There are many wedding events on the road to the big day - and our stylists have compiled the ultimate list of bridal events and what to wear to make planning a bit easier. Whether you're a woman who loves the spotlight, or a bride who prefers a quieter approach to your engagement, these little white dresses for bridal events will make you feel comfortable when all eyes are on you.
When selecting a white dress or jumpsuit for your engagement party, bridal shower, bachelorette party, and beyond, there are 3 things to consider for each event:
1. Venue - Where is the party taking place? Does your outfit make sense for the location? For example, a white beaded cocktail dress would not be an ideal look for a beachside bridal shower, but a lightweight white day dress would look right at home.

2. The Time and Date of the Event - When is the party happening? This can eliminate some options or require the addition of accessories. If your bridal shower is taking place during a winter afternoon, you may opt for a long sleeve white dress or need to add a shawl. (Psst - you should check out our S'HUG® collection - it's perfect for busy brides-to-be).

3. Aesthetic - This could be for both your personal style and the style of the event. If you're having a tropical-themed engagement party to announce your plans for a destination wedding, choosing a beachy white dress with a silhouette you know looks great on you is the best way to go.
Time to celebrate! And what better way to announce your engagement than in a little white dress for your engagement party? Your engagement party dress will set the tone for your bridal style so don't be afraid to play around with your look to find a white dress you love. It may be a style you would never have imagined. Here's a white dress for an engagement party our stylists love:
Now that your engagement party is over - it's time to look ahead! From filling your Instagram up with photos that show your newly-engaged status to sending out personalized save-the-dates, choosing what to wear to your engagement photoshoot is no small feat. These photos will be shown to all your family and friends, displayed at upcoming events, and looked back on for years to come. Given the longevity of these images, many brides curate a more timeless look for their engagement photoshoot dress. These white dresses for an engagement photoshoot are stylist-approved:
Photos? Check! Gift Registry? Check! All that's left to plan is your bridal shower look. In a sea of little white dresses, finding the best bridal shower dress can be difficult. Follow our 3 tips at the top of this post when shopping for white dresses for your bridal shower, and it will be smooth sailing. Here is a statement-making little white dress our stylists can't get enough of for the bride-to-be at her wedding shower:
Ready for a weekend away with your girls? After all the planning - you earned a little rest and relaxation (and a little partying, too.) Your bachelorette party is the perfect time to break out a little white dress that screams "I'm the bride!" When choosing white dresses for a bachelorette party, don't be afraid to lean into your favorite trendy details like cutouts, feathers, and fringe.
Here are bachelorette party dresses guaranteed to make a splash:
Your wedding weekend has finally arrived! Before you exchange "I dos" it's all about making sure your crew is rehearsed and ready for the big day. The rehearsal and rehearsal dinner will be full of warm welcomes, speeches, and - most notably - photos. Selecting a white dress for your rehearsal dinner is a great opportunity to set the tone for the wedding weekend. Opt for a
rehearsal dinner dress that shows off your personality and contrasts the dress you'll be wearing for the big day. Our stylists love this timeless white dress for the night before the wedding.
Over dresses? This jumpsuit is an elegant rehearsal dinner look:
You're officially a MRS! Surprise all of your guests by switching up your look at the reception. Whether from the time of entrance or changing mid-way through, a little white dress for your wedding reception doesn't just make a statement, it's a practical choice, too. Our stylists think this white reception dress is perfect for an evening of eating, dancing, and enjoying the
company of your guests:
The big day is coming to a close - but no one is ready for the party to stop, least of all the bride. Whether headed to the hotel bar or going to the next event you've carefully planned, an after-party dress is a must! Shimmy out of your longer dresses and into a playful white cocktail dress. This white dress for the after party is a stylist favorite: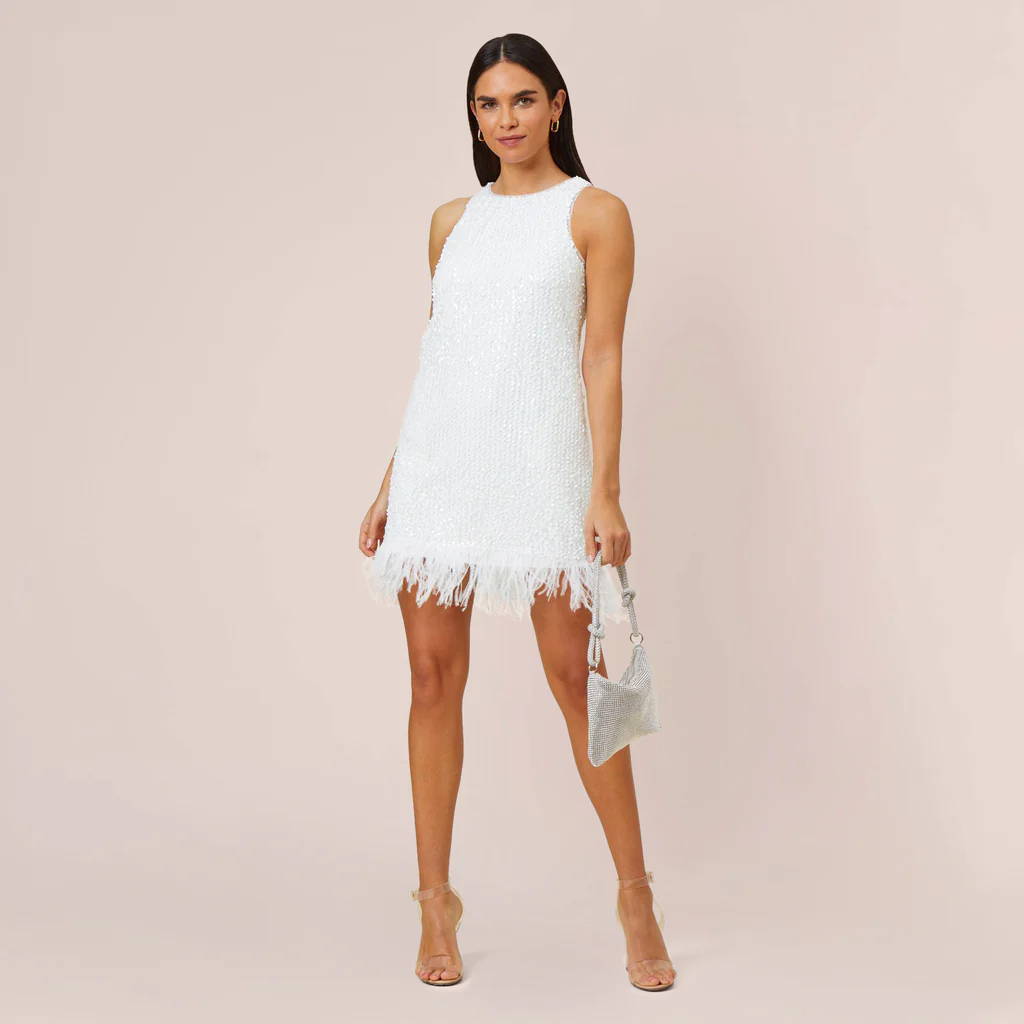 Sending your guests off with a little breakfast before everyone says goodbye? A comfortablewhite dress for your wedding brunch is the way to go. It'll help you feel put together even though you may be feeling tired from all the wedding day festivities. Here's a white dress you'll love wearing to your bridal brunch and beyond: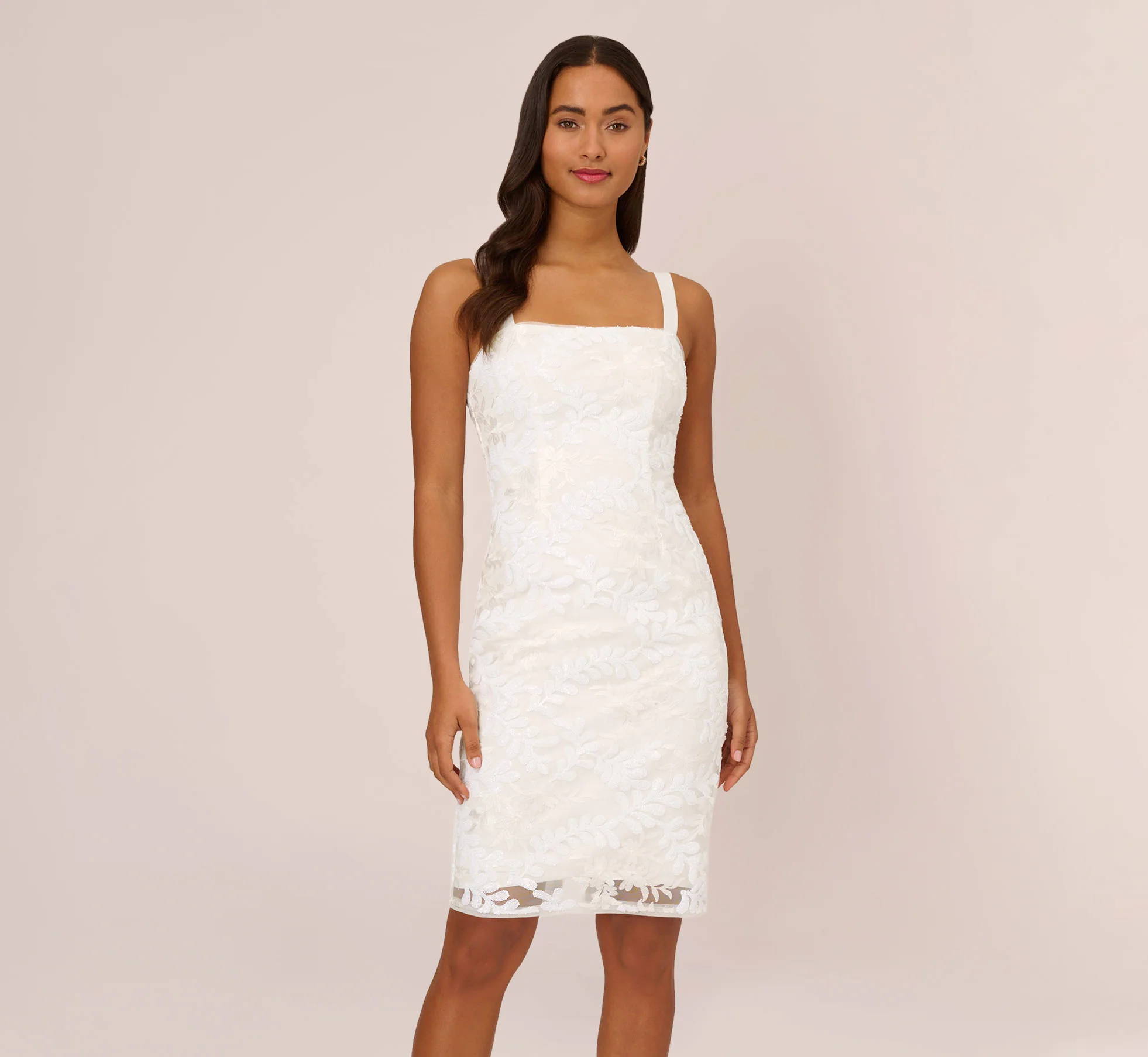 Skipping the traditional fanfare and hoping for low-key nuptials? We love finding a look for a city hall bride! Whether searching for a white dress for city hall or looking to go your own way with a jumpsuit, our collection of little white styles has the perfect bridal outfit for you. Our stylists love this jumpsuit for a city hall wedding: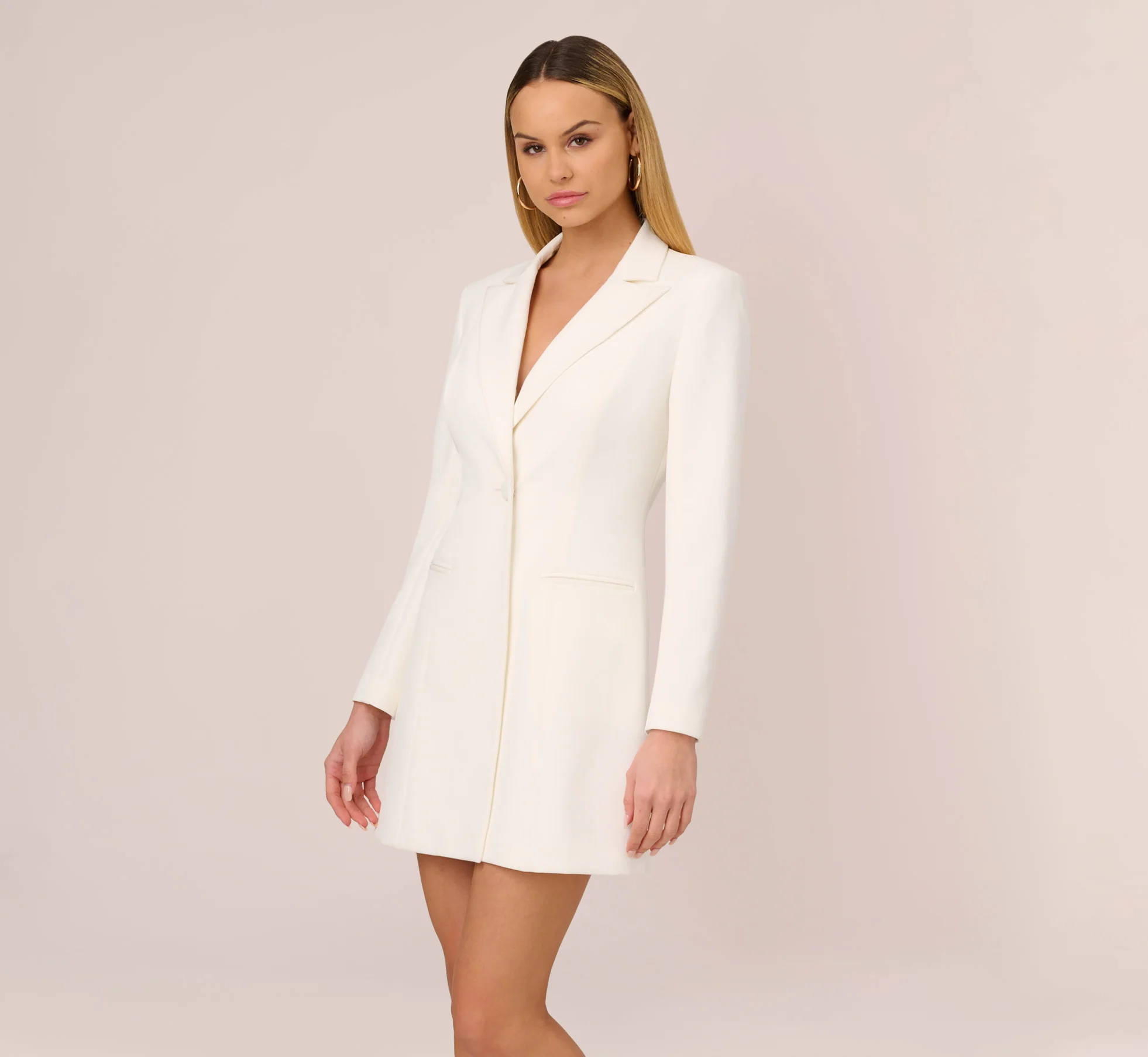 Discover More from Adrianna Papell