---
Our exclusive cardigan wrap is smartly designed with patented integrated tunnel sleeves that allows you to wear the SHUG® in dozens of ways. Crafted with a touch of cashmere for exceptional softness. Unbelievably cozy yet polished to take with you wherever you go while leaving your hands free. Perfect to layer over a tee with your favorite jeans or leggings for a casual outing or over a dress or gown for a dressier look. Perfect for you or as a gift for someone special.
Have you ever needed a light layer at the office or while out running errands? Have you ever needed a cozy layer at a cocktail party but had a hard time balancing a glass or a plate while keeping your wrap on? Have you ever needed just a cozy layer to take you from the office to a party or from the gym to vacation? Well, we have just the piece for you. The S'HUG® utilizes integrated patented tunnel sleeves which allows for a seamless transformation from wrap to cardan to scarf, while keeping the S'HUG® comfortably hands free.
Designed with patented tunnel sleeves to give you the confidence and total freedom of movement without fear of your wrap falling or dropping
Takes three wardrobe essentials--the cardigan, wrap and scarf and easily transforms them into one chic piece with endless styling options.
The S'HUG® embraces the every day and special moments in a woman's life. Perfect for today's on-the-go woman.
Crafted with a touch of cashmere for added softness
Designed for easy transitions, the S'HUG®'s unique patented tunnel sleeves will keep you in a soft cozy layer of warmth whether wearing as a cardigan on a morning coffee run, a wrap at a wedding or a scarf on a plane ride.
Crafted with a touch of luxe cashmere for a wonderfully soft touch and feel.
To help make life easier for the modern woman who is always on-the-go, we've created the perfect 3-in-1 wrap and designed it with integrated patented tunnel sleeves so she can be hands free without fear of it falling or dropping. It's the wrap you never you needed in your life (but really do).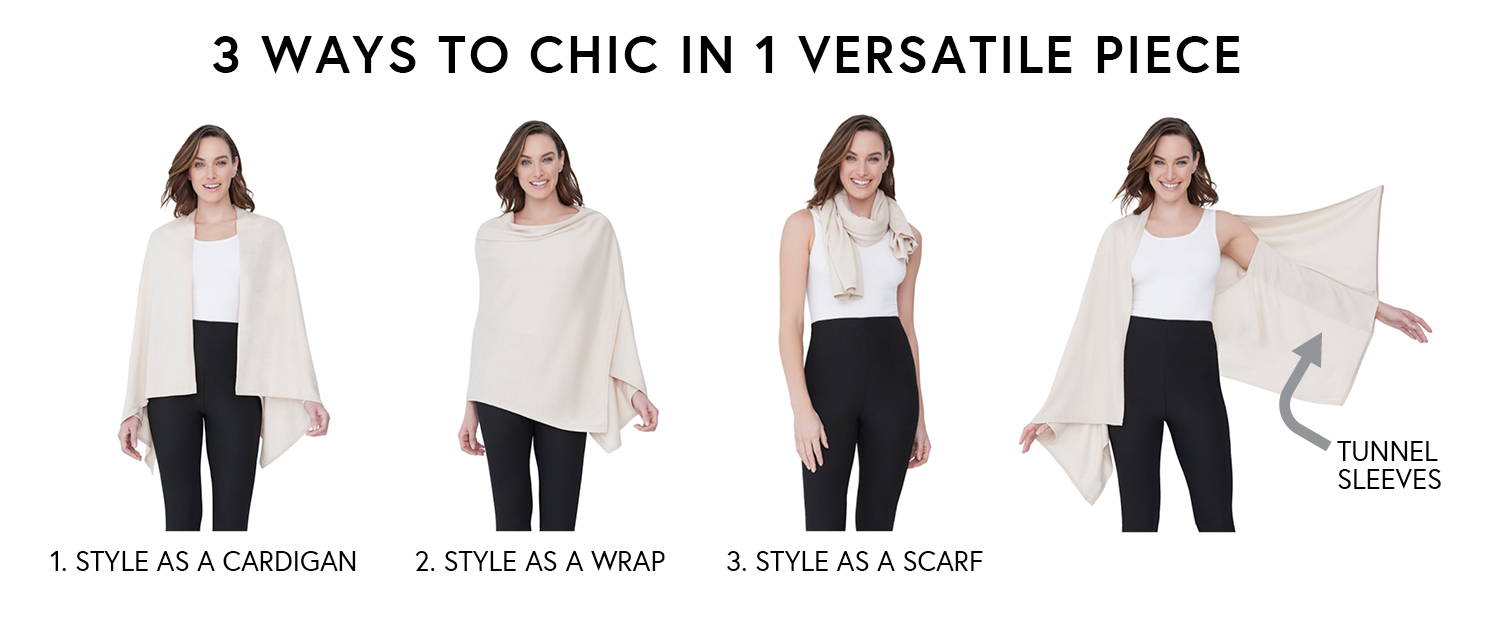 I'm delighted to introduce S'HUG®, the versatile cardigan wrap you never knew you needed. Thanks to its integrated tunnel sleeves, wearing a lightweight, stylish layer that stays in place no matter where you go is now possible. I invite you to meet our new S'HUG® and warp yourself in a layer of soft comfort.
Sending hugs,
Janyee Berkman
President and Chief Creative Officer at Adrianna Papell