Create Your Own Stackable Story

There is a story in everything, even in your bridal jewelry. It can tell your style. Speak to your passions. It can even tell your family history.

Traditionally, wedding ring sets only included the engagement ring you received for the proposal and a wedding band exchanged on the big day. Today, it's a whole new story and it's a fun one, because adding several stackable wedding bands is a unique and special way to add your own personality to your wedding jewelry set, and an easy way to update your engagement ring if you get the itch to want something new on your finger.

Stackable wedding bands are just that – thin bands that can easily stack on top of each other to create a one-of-a-kind design. They can interlock with each other and sometimes they don't, it's totally up to you and the look you want. The options for stackable bands are endless. You can mix luxurious diamond bands with more simple or plain ones, or you can go and show off your true colors with colored gemstones and interesting details.

Even traditionalists believe that when it comes to wedding jewelry, you're allowed to mix metal, diamonds and gems. Stacks and stacks of mixing and matching rings should be as fun as buying them. Let your creativity and uniqueness shine! The main thing is your stack expresses your individual style and you'll be happy wearing your wedding rings for a lifetime.
.
Here are some ways you can start building your dream wedding band stack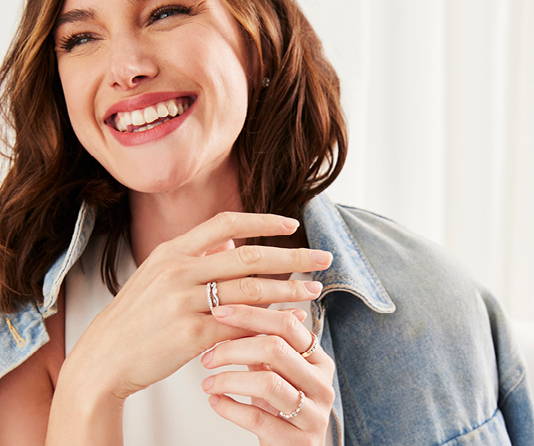 Brighten your ring stack with a pop of color. By adding a ruby band, or an emerald or sapphire one, you can make your wedding set truly versatile. Swapping in an additional band or bands allows you to experiment with different colors and styles not included in your engagement ring or wedding band.
Shaping Up with Coordinated Cuts

Coordinate your diamond cut and metal for your engagement ring and diamond band for a perfect match. All you need to do is narrow down your search by metal color, metal type, stone type to find a set you'll be in love with.
Spark interest by creating tiers of metals and textures into your stacks. Mixing metals in complementary designs are a fun and unique option for one-of-kind engagement and wedding ring pairings. Plus, it's a great way to bring some other luxurious and playful metal options into your jewelry. The variations are endless.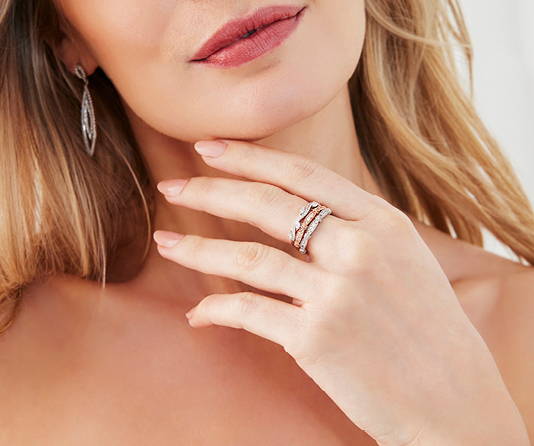 Who wouldn't love a rainbow of rings to brighten your day? A gemstone wedding band is easy enough to wear solo or for extra oomph add one or several to your ring stack for a fun pop of color or as a complement to your engagement right. The options and colors are like a rainbow, endless! These beauties also make a great friendship ring.
Is There a Certain Order the Rings Can Be Stacked?

Many brides prefer the symmetrical stacking method, meaning placing your engagement ring in the middle and "locking it in" with two bands or eternity rings, one on either side. Another option is some brides prefer to slide the engagement ring on first and then add their wedding bands after it. Both ways of stacking can be done from the day of your wedding and you can always switch up the look over time. You can also always add bands over the years to commemorate life events like the birth of a child or a milestone anniversary.
Still not sure what wedding band to wear alongside your engagement rings? You wedding band doesn't have to sit next to it, you can play around with stacks on the other hand and leave your engagement ring to speak for itself.

So, the story is, sometimes more is better!
---