Grandmother of the Bride Dresses Style Guide
When Susan was looking for a grandmother of the bride dress to J at her granddaughter's wedding in Israel, she said she wasn't sure where to shop for this joyous family occasion.  
Susan said because she lives in a small town, her options to find a grandmother of the bride wedding dress in person were limited. So instead, Susan searched the Internet and happily discovered a stunning and equally appropriate dress for her granddaughter Sarah's wedding on AdriannaPapell.com. 
"I was so delighted with my purchase. Thank you for the beautiful dress," Susan said, adding Sarah's other grandmother, Kathleen, coincidently also bought a dress for the wedding on AdriannaPapell.com. (We like to say great minds, great style.)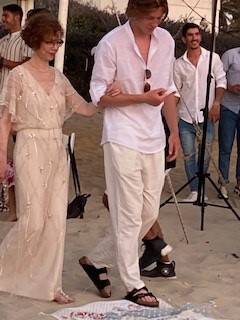 While the bride's gown is obviously the most talked about dress of the day, that doesn't mean that other family members shouldn't also get dressed up for the wedding. In fact, your family and friends are sure to want to look their absolute best at your wedding, especially the grandmothers of the wedding couple. 
If you are lucky enough to have your family's matriarch (grandma, granny, mom mom, nonna, oma or savta) at your wedding, consider yourself lucky. She is a true gem, the guest of honor and deserves to wear something beautiful that makes her feel special. 
What exactly is a grandma-approved dress? We are pleased to share with you our style guide to what your grandmother can wear to the wedding. We have a huge assortment of dance floor-worthy grandmother of the bride dresses she (and you) will fall in love with. We have a huge assortment of styles – long, short, florals and hand-beaded—all from the Adrianna Papell's grandmother of the bride dress selection that is sure to show everyone how grandma is still the life of the party. 
What Do Grandmothers Wear to Weddings?
So, what should a grandmother of the bride wear to her granddaughter's or grandson's wedding? Whatever she likes of course! While mother of the bride dresses will work perfectly for a grandmother of the bride, sometimes grandmothers prefer a few extra flourishes in their attire-dresses with sleeves, easy-to-wear styles and separates. We recommend choosing a style she feels comfortable and confident in, that is easy-to-wear, festive and of course suits her sparkling personality! 
So go call your grandma and start shopping our selection of hand-beaded gowns, floral dresses and versatile tops. Our collection of grandmother of the bride dresses are perfect for any venue—from beachy cool to a formal affair and at any time of year. Don't forget to be available for a sweet treat after browsing our collection. 
Long Sleeve Grandmother of the Bride Dresses
Long-sleeved wedding dresses for grandmothers of the bride are a classic and sophisticated style that looks amazing in any formal setting. The long sleeves provide added coverage and warmth for a cool evening.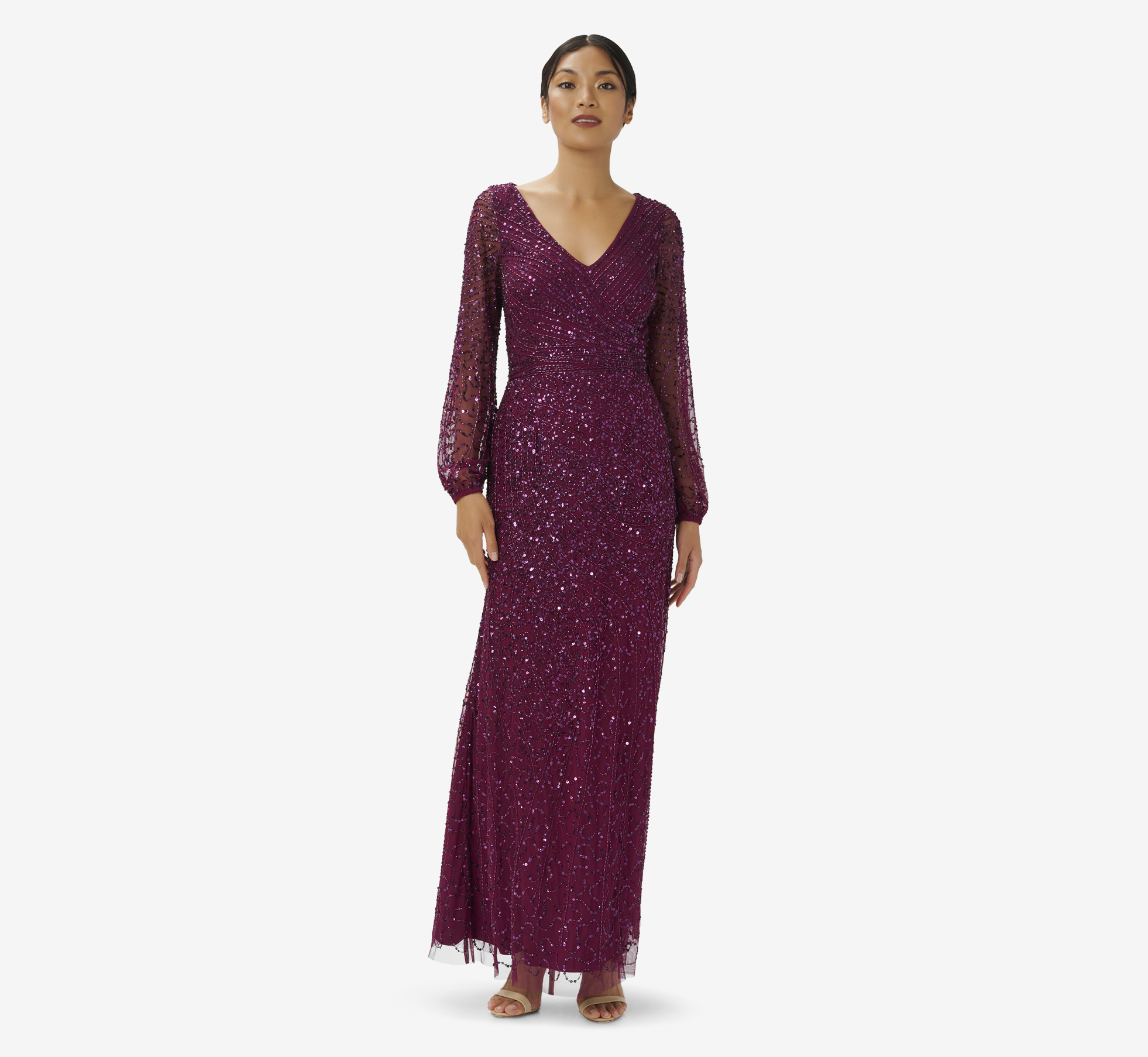 We love this regal look for grandma. She'll feel so glam with the allover hand beading, the long sheer illusion blouson sleeves and the slight flare at the hem for ease of movement. Bonus: the Bordeaux shade is perfect for grandma all year. 
Floral Grandmother of the Bride Dresses
Don't be afraid of bright colors and bold patterns when shopping for a dress for the grandmother of the bride. We especially love floral prints because they are extra cheerful on such a happy occasion in a variety of settings.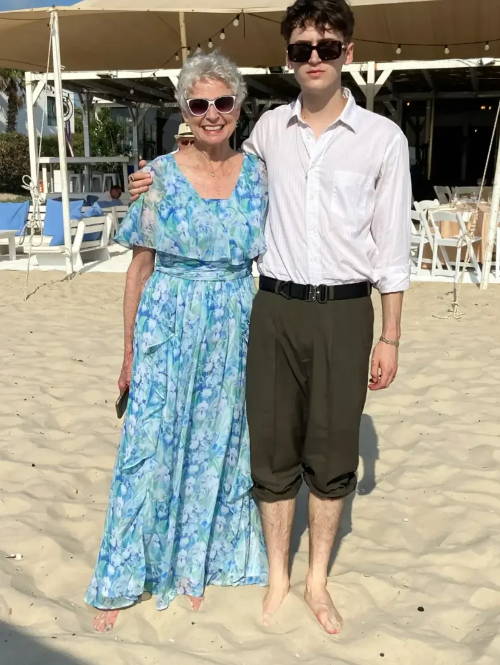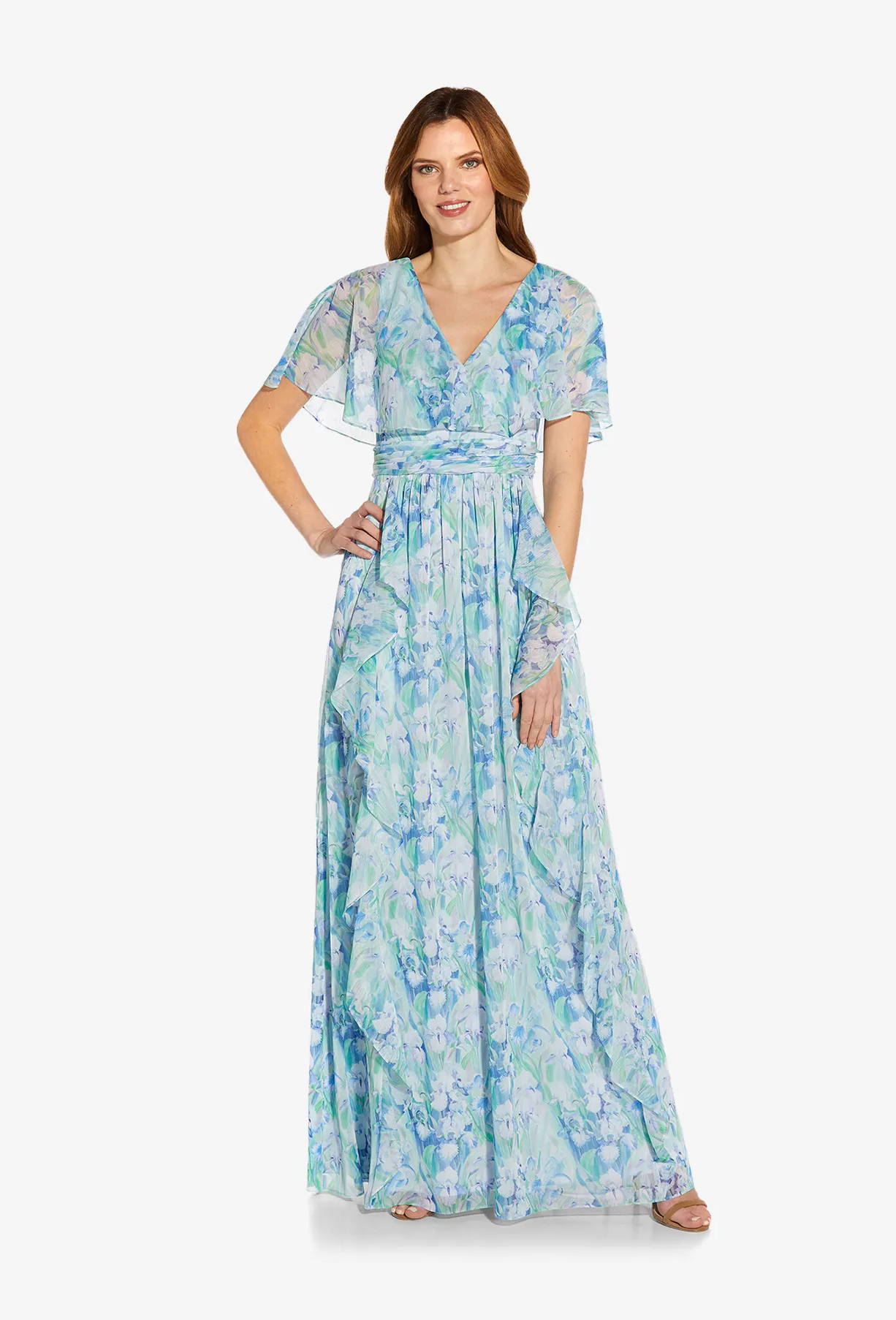 Sarah's grandmother Kathleen chooses this chiffon gown for the big day. We love how pretty and soft looking this floral-printed gown is on. This dress features dainty ruffles and a flattering back cape for added movement. Your grandmother will feel fashionable and special wearing a look that blooms and flows and looks effortless chic on the dance floor.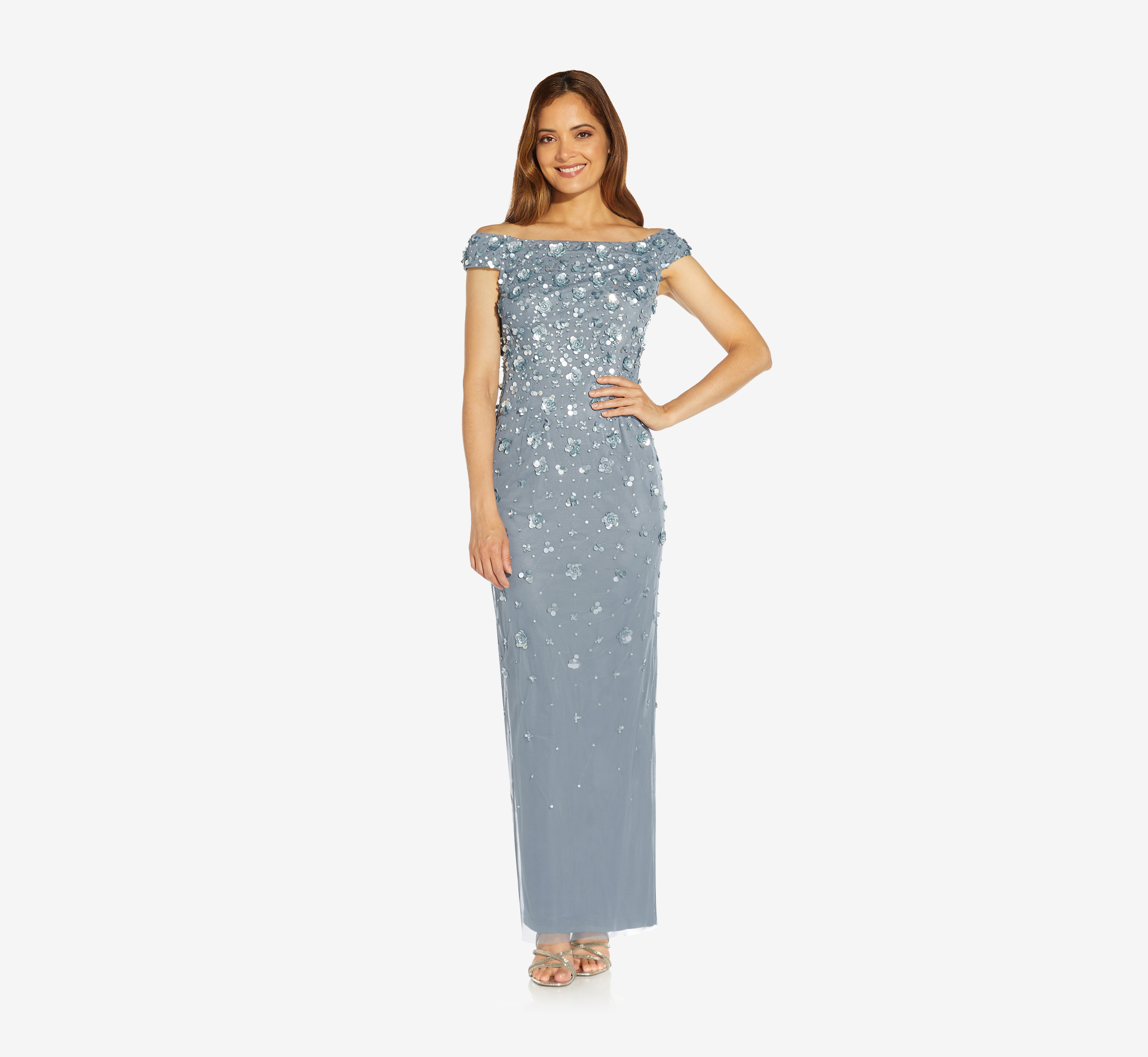 Hand-Beaded Grandmother of the Bride Dresses
A comfortable and flattering formal gown is always appropriate for the grandmother-of-the-bride—especially if it's covered in sparkles. We especially love the clean lines and rich textures of these styles. 
Sarah's grandmother Susan wore this stunning long gown to the wedding in Israel. We love the iconic (and universally-flattering) blouson style that's a sophisticated option for a variety of settings. It has shimmering hand-beaded details, a faux wrap bodice and breezy flutter sleeves.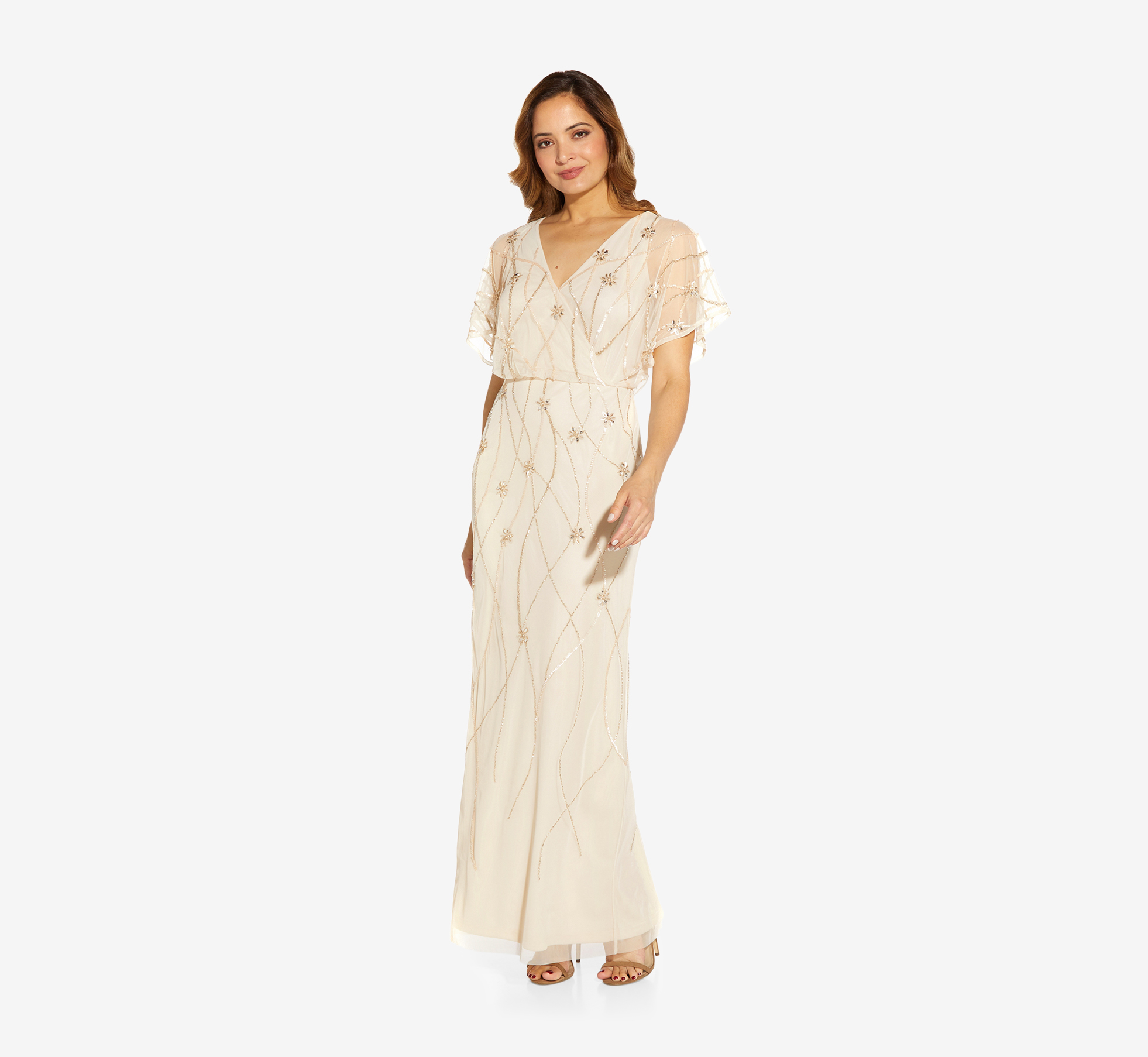 Cocktail Grandmother of the Bride Dresses
A full-length gown isn't required attire for your grandmother to wear at your wedding. A great cocktail dress goes everywhere and anywhere. Grandmothers often prefer the ease of the shorter hemline. These dresses are perfect for daytime or casual weddings, all the way to a formal evening affair. 
This marble-colored sheath dress with sheer illusion flutter sleeves and a hemline that hits just above the knees. It's dripping with exquisite handsewn beadwork and has a super flattering blouson bodice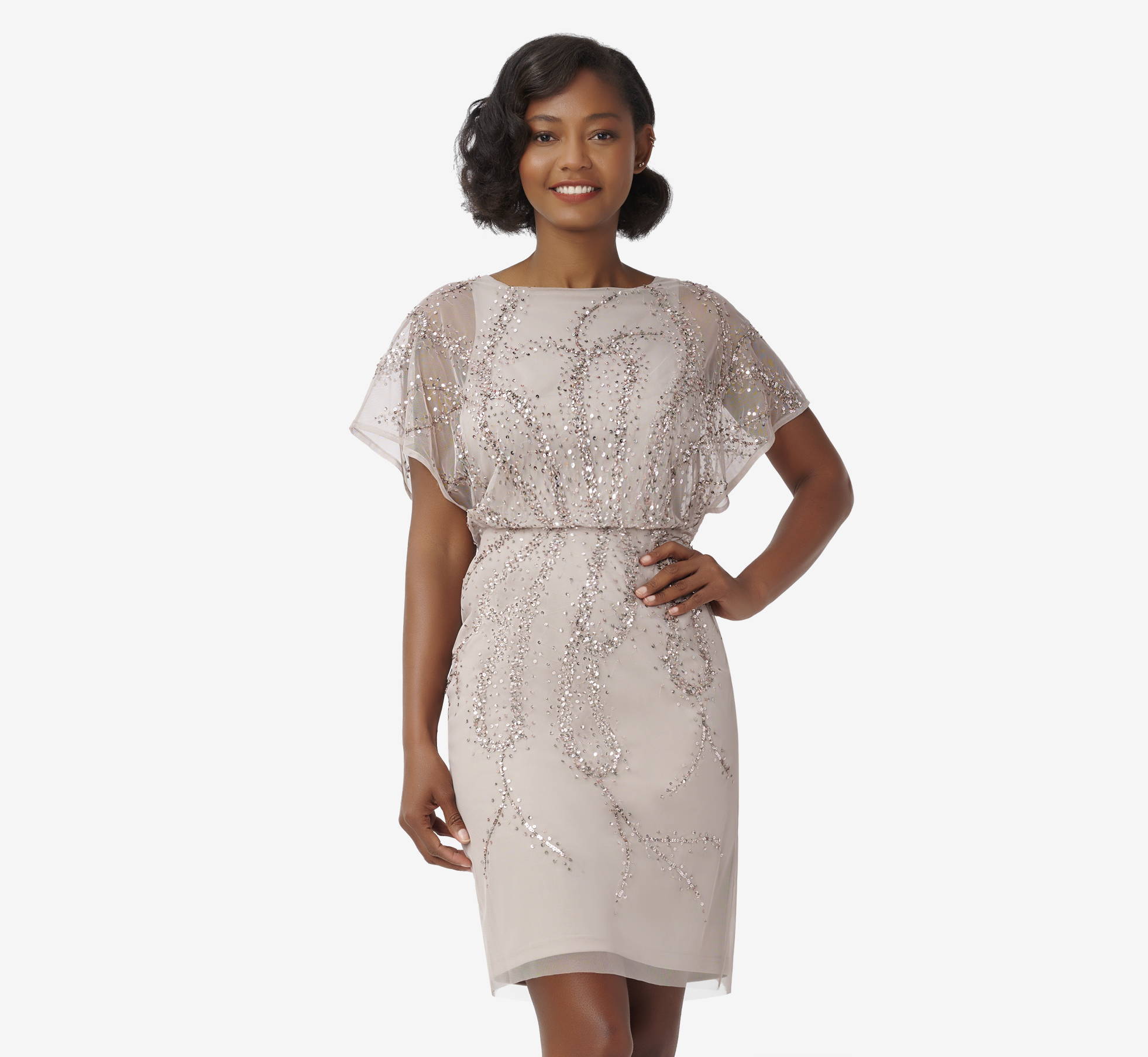 Blouson Grandmother of the Bride Dresses
The iconic blouson bodice provides extra room in the bust and makes an elegant, yet comfortable choice for grandmas to wear to their granddaughter's or grandson's wedding. 
The sparkly handsewn beading transforms this grandmother of the bride's wedding dress into a beautiful ensemble for black-tie affairs and cocktail parties. The flutter sleeves and blouson silhouette will give ample coverage and provide a flattering, yet comfortable fit.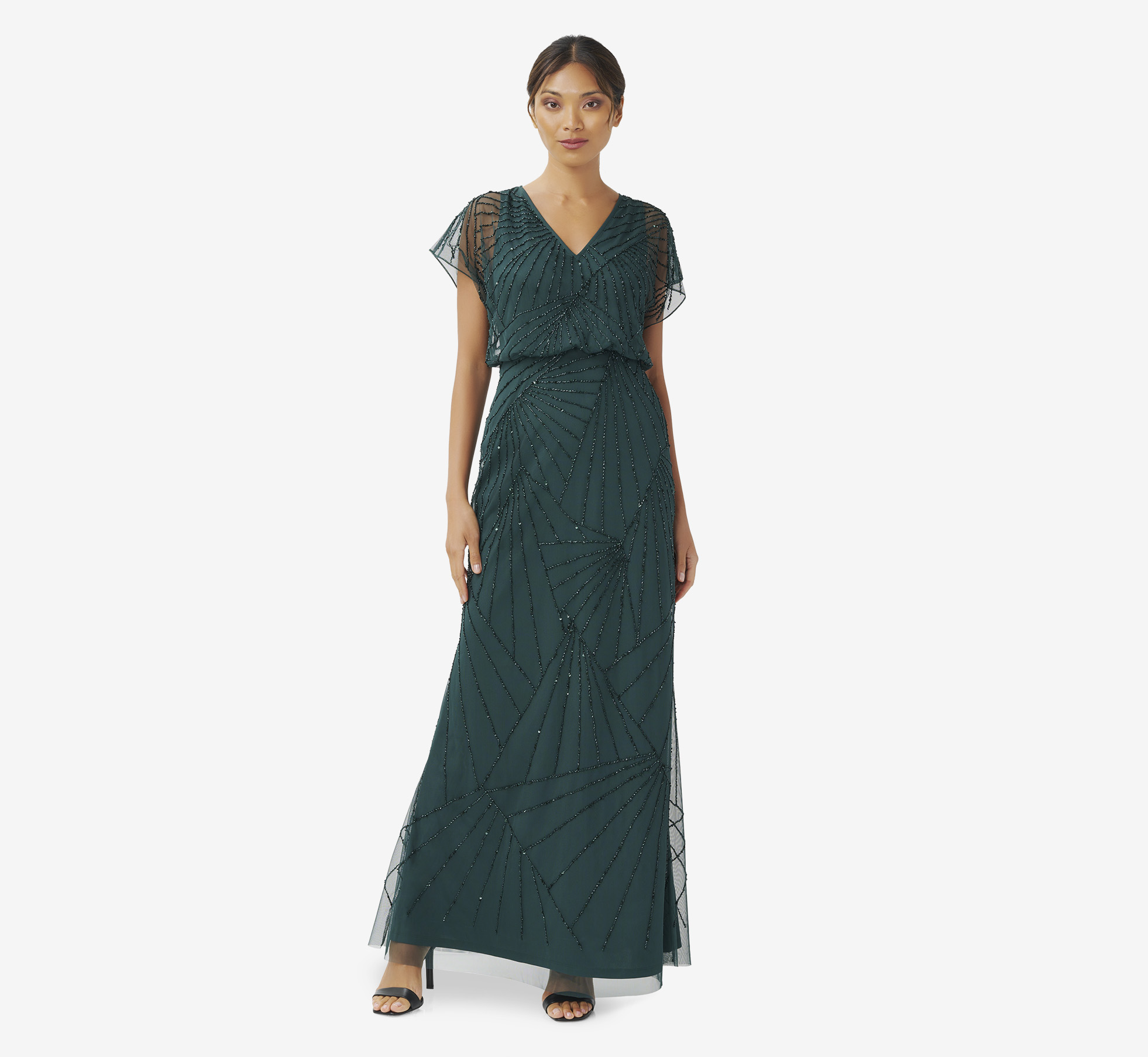 Separates for the Grandmother of the Bride
Special occasion separates include a flattering beaded top, which is a comfortable and easy-to-wear option that is popular with grandmothers who prefer pants or a suited style. It's also a great look for a more casual venue, although most tops are formal enough for even an evening wedding. With the right accessories, you can wear these fancy tops to any type of wedding. 
This neutral grandmother-of-the-bride top is covered with glittery beading. The sheer illusion yoke and three-quarter sleeves create a delicate finish. It's meant to be paired with a comfortable pair of black pants or skirt—perfect for greeting family and dancing up a storm.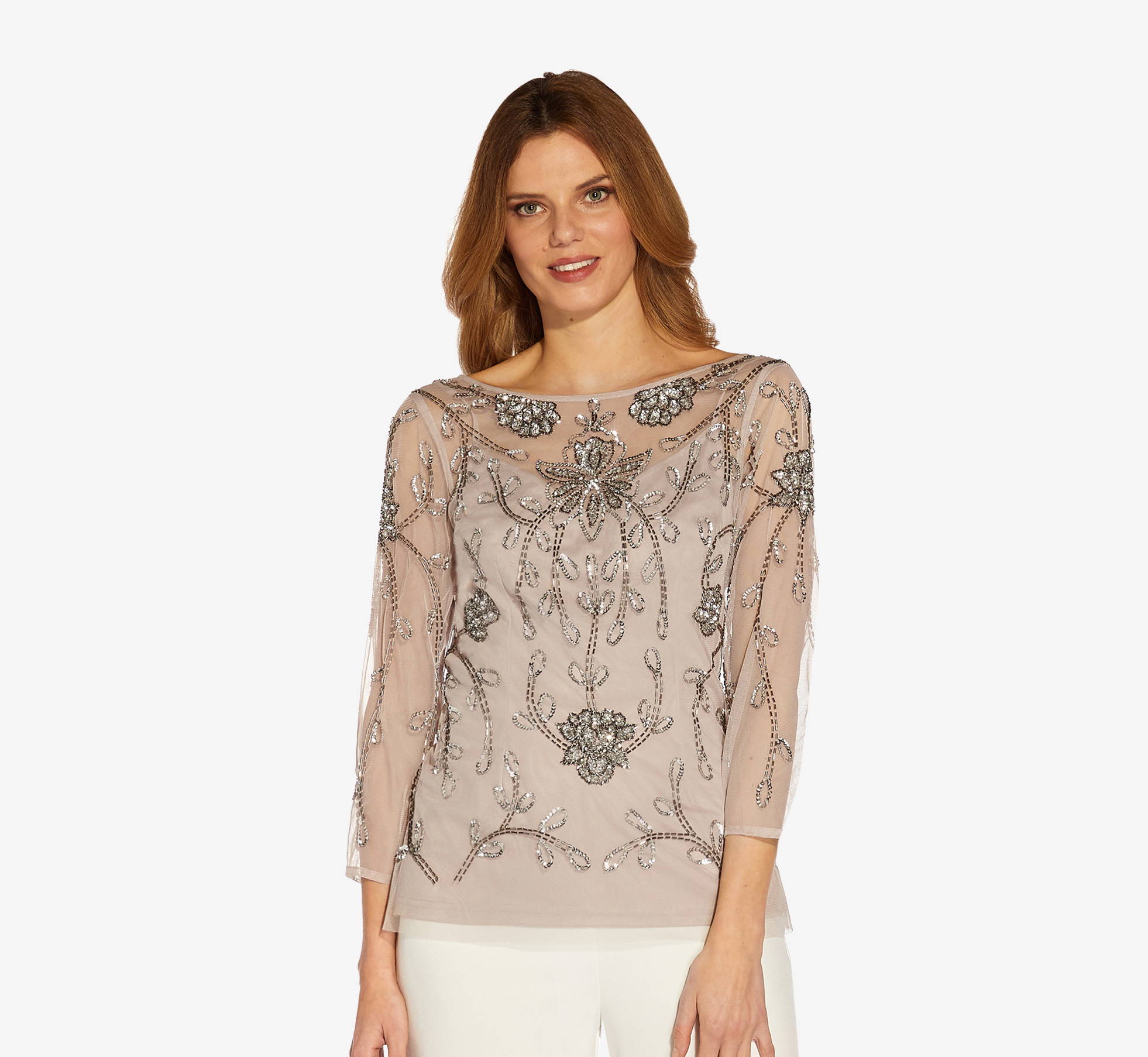 The S'HUG® for the Grandmother of the Bride
Your grandmother should never leave home without her S'HUG®, our exclusive cardigan wrap that is the perfect layering piece made with a touch of cashmere. It is made with patented tunnel sleeves that allow you to seamlessly transition the S'HUG® to three unique pieces—a cardigan, wrap and scarf. 
The playful ruffles add a playful touch while the sparkling metallic knit provides a dose of glamour.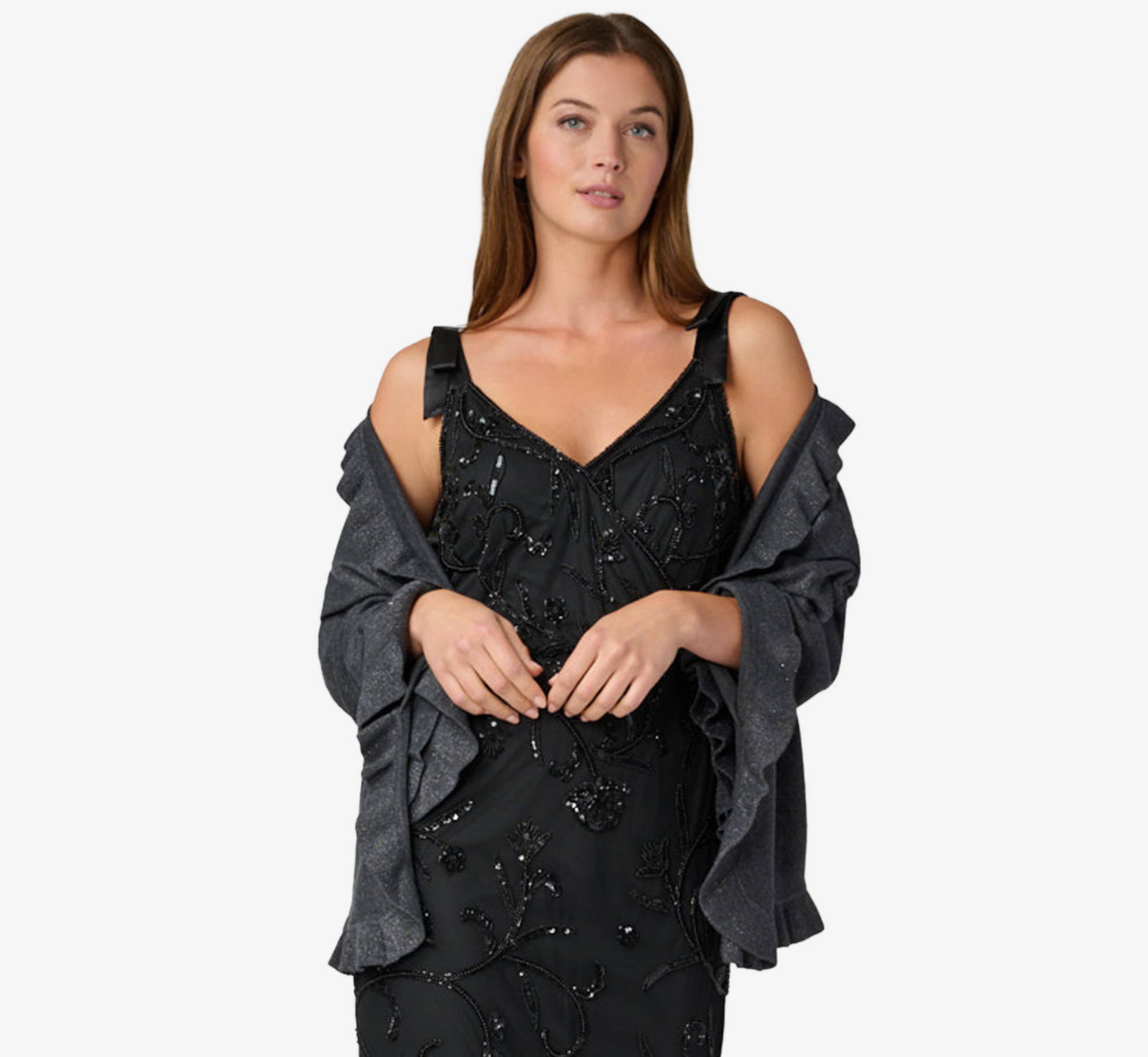 The Wedding Style Destination for the Whole Family
The Adrianna Papell collection of beautiful dresses is for every member of the family – including the grandmother of the bride and groom as well as the mother of the wedding couple, sisters, aunts, cousins and friends—to wear for weddings and wedding events this season.
Discover More from Adrianna Papell
---